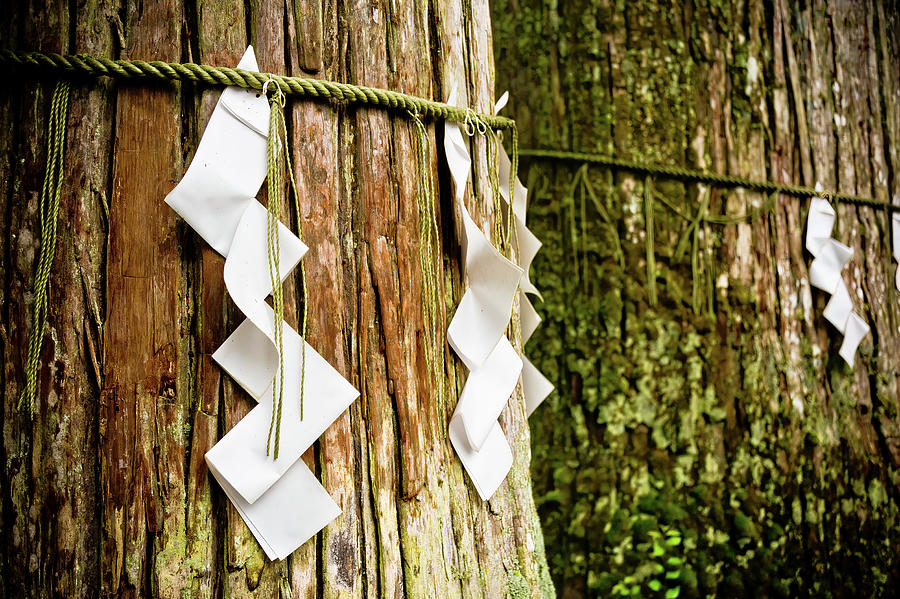 Title
Yorishiro Trees, Nikko. Japon.
Description
The yorishiro (here the tree) is an object capable of attracting spirits called kamis, thus giving them a physical space to occupy during religious ceremonies. Yorishiro are used during ceremonies to call on kamis to participate in worship. The word itself literally means "substitute approach". Once a yorishiro truly hosts a kami, he is called a shintai. Ropes (shimenawa) decorated with paper streamers called shide often surround the yorishiro to make their sacredness apparent.

Le yorishiro (ici l'arbre) est un objet capable d'attirer les esprits appelés kamis, leur donnant ainsi un espace physique à occuper durant les cérémonies religieuses. Les yorishiro sont employés au cours des cérémonies pour appeler les kamis à participer au culte. Le mot lui-même signifie littéralement « substitut d'approche ». Une fois qu'un yorishiro héberge véritablement un kami, il est appelé un shintai. Des cordes (shimenawa) décorées de banderoles de papier appelées shide entourent souvent les yorishiro pour rendre apparent leur caractère sacré.
Uploaded
November 22nd, 2021
Statistics
Viewed 297 Times - Last Visitor from Paris, A8 - France on 05/26/2023 at 3:13 AM